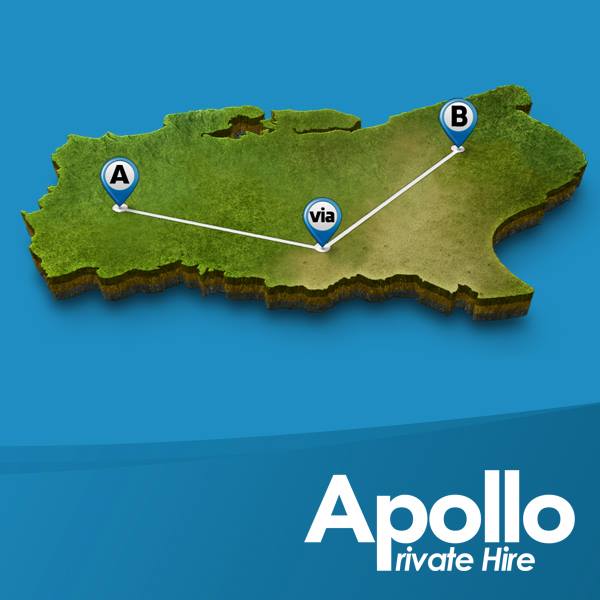 Apollo are happy to announce the launch of our new text price confirmation you receive at the end of your journey.
If you know Apollo, you will know that our prices are generated by GPS; none of our vehicles are fitted with traditional taxi meters. Our system calculates a price based on the shortest route from the pickup point to the destination, so we are able to provide you with an accurate quote at the point of, or prior to, the booking so long as we have accurate addresses. Providing there are no detours with the journey, the price quoted will be the price you are charged – there are no hidden prices with Apollo whether that is before or after your journey!
We have recently introduced a new feature that will send you a text to your mobile telephone after your journey with the price you were charged. It doesn't matter if you change your destination after booking, or need extra stops on the way – the price on your text is the final price you paid. You can be assured that you will always be charged the same price for the same journey regardless of the route the driver took (we always charge you for the shortest route!).
This price will be generated by the system and will be the same price that the driver is given. So you can feel reassured that you are always charged based on the shortest possible route and the price you paid is fair. If you do exactly that same journey again then the same price will be charged.
Every booking with a mobile telephone number attached will receive the thank you text, including the price, and a link to leave a review about your experience!
A huge benefit of this new feature is that you will be aware exactly what you have paid for your journey, therefore will know the price for next time; this can also be used as a receipt of payment.
Of course Apollo still give you the option to find out the price of any journey beforehand. You can get a quote by
Telephone
E-mail
App*
*Find our app on the Google Play and Apple Store [links below]